Volibear, the Thunder's Roar
tank, fighter, jungler, melee
Lore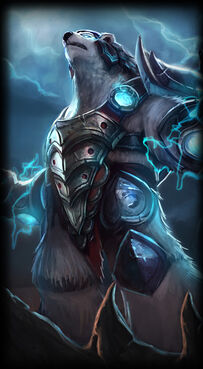 "Few can weather the storm that follows in the wake of Volibear's roar."
Though the northern reaches of
Freljord
are some of the most unforgiving lands in
Valoran
, the
Ursine
have survived upon the region's barren, stormy tundra for centuries. As a fierce and respected warrior of the Ursine,
Volibear
devoted his life to the protection of his people and loyalty to his elder brother, the tribe's chief. When his brother was killed during a hunt on the tundra, the tribe looked to Volibear as his successor. It was an honor and a burden that Volibear had never expected, but he shouldered the charge with pride. However, by Ursine tradition, the tribe could not recognize Volibear as chief until he returned from a journey to the peak of their sacred mountain, a place forever shrouded in a thundering maelstrom. There, Ursine chieftains must speak to the storm itself, gaining clarity and wisdom to empower them as mighty leaders.
Donning the chieftain's traditional armor and enchanted gauntlets, Volibear began the long and perilous climb up the slopes of the mountain. When he reached the peak and gazed into the raging storm above, he saw a horrific vision of a Freljord utterly consumed by war. Amidst the carnage, the Ursine fell dead upon a bloody battlefield. Believing the vision to be an omen of things to come if he did not act against them, Volibear traveled to the capitol of Freljord. The Ursine had not ventured across the southern mountains in centuries and his appearance was met with unease. However, Queen
Ashe
recognized Volibear as a wise and powerful ally. In what Volibear considered the first step against a war-torn future, they forged an alliance. As part of their agreement, he joined
the League of Legends
in the name of a unified Freljord, representing the primal might of his nation on
the Field of Justice
.