Morgana, Fallen Angel
mage, support, ranged
Lore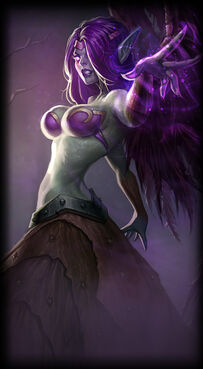 Morgana
was one who fought against what she perceived as the tyranny of her kind, and for that she was branded
fallen.
Morgana was not innocent, having plumbed forgotten ways to gather forbidden might to become a powerful mistress of the black arts. This goal was driven by her obsession to defeat the general of the opposition's army - her sister,
Kayle
.
While the two were in fact birth-sisters, Kayle struck the first blow by disowning any filial connection when Morgana refused to join her cause. Eventually, Morgana grew in power enough to not only reach, but challenge Kayle. As the time approached when the two would meet in what could be their final conflict, Morgana was suddenly summoned to
Valoran
. At first, Morgana made a deal with the League's summoners to fight in exchange for greater power. With the advent of Kayle into the League, Morgana now willingly fights in
the League of Legends
for the privilege of being able to destroy her sister again, and again, and again. She lies in wait for the day the bonds of
the Institute of War
no longer hold her, and on that day she plans to destroy Kayle once and for all and return home a hero.