Katarina, the Sinister Blade
assassin, melee, recommended
Lore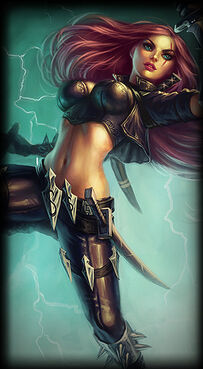 As a militaristic state, it would perhaps come as no surprise that the primary responsibilities of Noxian women are raising strong children and providing succor for husbands who walk the path of soldiery. There are some, however, for whom nurture is not nature, and
Katarina
is just such a creature. Born the daughter of the feared
Noxian General Du Couteau
, the girl was always more interested in her father's knives than in the dresses, jewelry, and other trifles that her sisters spent so much time fussing over. A childhood dispute soon unveiled her uncanny knack for bloodshed, and her father, ever the opportunist, happily fostered her killer instincts. After training under the tutelage of the finest assassins the mighty city-state had to offer, Katarina first cut her teeth performing assassinations in the
Ionian War
. There, her ruthless mastery of the knife and dagger combined with her sadistic temperament to earn her the title Sinister Blade, a moniker that would follow her for the remainder of her career. She is most famous, however, for her exploits in the campaigns against
Demacia
, especially those surrounding her engagements with the nation's champion,
Garen
; a rivalry that began when she recovered the remains of
Sion
from a vanguard under his protection.
With the demand for warfare somewhat arrested by the tenuous peace settling over
Valoran
, Katarina sought the allure of violence in its last remaining haven:
The League of Legends
. Some might say it was an inevitability that Katarina's chosen path would draw her to become a champion of the League, continuing to enforce the will of
Noxus
and bring prestige of war to her noble family. There, she continues to perform her bloody work - esteemed and reviled, feared and adored.
Ad blocker interference detected!
Wikia is a free-to-use site that makes money from advertising. We have a modified experience for viewers using ad blockers

Wikia is not accessible if you've made further modifications. Remove the custom ad blocker rule(s) and the page will load as expected.